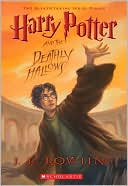 I just finished re-reading The Deathly Hallows, and I have to say that it was even more brilliant the second time.
I was one of those Potter fans that waited in the driveway for each book of the Harry Potter series to be delivered on the day of its release. When it came, my family knew that I was opening it up that very minute and wouldn't take my nose out of it until I was finished.
Deathly Hallows was a bit different. I knew it was going to be the last, so I tried my best to read it slowly, but Rowling's pace kept me turning the pages as fast and furious as always. I knew that I was going to have to read this one again, because there was so much detail and so many nuances that I knew I was missing the first time around. So, finally, this spring, it was time to re-read it, and I was so glad I did.
In the
Wizarding
world, young witches and wizards "come of age" when they turn 17. Harry really does come of age in Deathly Hallows, and becomes the true hero we all knew he would be.
All of the loose ends are tied up nicely, but not before watching Harry deal with some very powerful
issues
of his own -- mortality, abandonment, friendship, love, honor, faith, sacrifice, and, most of all, courage. The elements of this story twist and turn and come back around on you, yet Rowling does so with such grace and ease. Brilliant. I can't wait to read this book again with my own boys someday.