I have my 2010 calendar in front of me, marking down all the big book releases that are coming up. As I mark my calendar, I'll be keeping you in the loop as to the new hot book releases for 2010.
First things first, Scholastic will be releasing the third book in The Hunger Games Trilogy by Suzanne Collins this
August, 24, 2010
. It seems like it's far away...especially if you've read
The Hunger Games
and
Catching Fire
, but time flies when you're reading good books. (Click on the links to read my reviews). For those readers who appreciate the paperback, the trade paperback edition of the first book in the trilogy,
The Hunger Games
, will be released on
July 6, 2010
. Alas, I can not find a name for this Book #3...anyone? anyone?
As I may have mentioned in my previous review, Stieg Larsson's third book in his Millennium trilogy,
The Girl Who Kicked the Hornet's Nest
is due out next year as well. We won't have to wait as long, though, for this is due to release on
May 25, 2010
. That will give you all enough time to read the first two books in the series,
The Girl With the Dragon Tattoo
and
The Girl Who Played With Fire
. I wonder if you're going to become as intrigued by "the girl" as I am!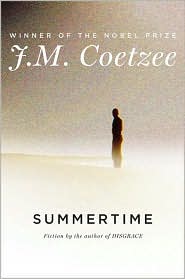 For those of you who have no patience, (ahem, like me) J.M. Coetzee's newest book,
Summertime
, is due out
December 24, 2009
. Just in time for holiday break. I discovered Coetzee through my book club, which picked his novel,
Disgrace
, as our November read. I'm looking forward to reading more of his work.
Last, but not least, I am already begging for the ARC for
Linger
by Maggie Stiefvater, the sequel to her amazing book
Shiver
. We can't expect to have this one in bookstores until July 10, 2010. I'm sure I'll be sneaking in a re-reading of Shiver at some point in the near future. Think werewolf love story, but with REALLY beautiful writing. As much as I'm looking forward to Linger, I can't wait until she writes her first adult novel. Maggie? Are you listening?
Next up: The "TENNERS" -- New Authors who have their debut novels coming out in 2010. I am bouncing in my seat I am so excited!!!